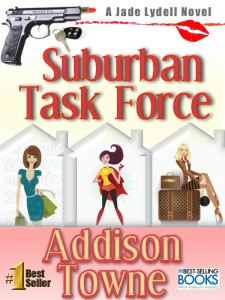 Suburban Task Force is a light, humor filled, high octane, action-comedy. It follows Jade Lydell, who at thirty one finds herself living the surreal life of a married suburbanite. Her simple, and now materialistic days are busy with shopping, drinking and playing with couples that live the same high-end lifestyle.
It takes a home invasion scare and a co-workers brutal mugging to wake Jade from her suburban slumber. The adventure begins when she and her two best friends forgo an uplifting spa retreat for an intense tactical, gun and self defense weekend, all without their husbands' knowledge.
Upon their return, feeling rejuvenated and proud, the women try to re-adapt to their suburban lifestyles. Not so easy when you have to attend a VIP party on Catalina Island with the who's who of Hollywood and Politics. Without warning, the island is taken hostage by a rogue terrorist group. With the men and women separated, and all outside communication cut off, Jade and her friends feel their only hope is to use their combined talents and outlandish movie knowledge to outsmart their captors.
Comedy and daring action ensue as the three women, with one weekend of self defense training, try to lead an all out attack against those holding their loved ones hostage.
If you are a fan of the Stephanie Plum series or enjoy a light, action packed, laugh out loud read this is the book for you!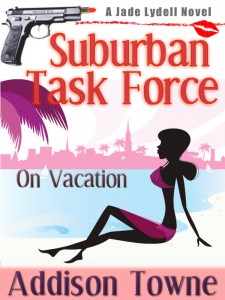 Available NOW!
Suburban Task Force On Vacation is a female driven, action packed, comedy. It follows Jade Lydell, who at thirty-nine has lost her business and her workout routine. To snap out of her depressed slumber she decides to take a family vacation with her husband, 2 year old, sophisticated and stunning mother, her mother's eclectic best friend and of course, the 19 year old gorgeous but 'oh so young' babysitter.  While at the resort a man of intrigue introduces himself to her mother. It is love at first sight, only there are those who aren't enamored with the concept of his happiness, or escape from the family business.
Without warning the women are blindsided, kidnapped and held for ransom. It takes Jade and her past experiences with rogue terrorists to push her mother, the best friend and the babysitter to reach deep and find a way to get her home to her husband and baby. All out action and comedy ensue as this oddly dynamic group of heroines try to escape from the kidnapping capital of the world.